Suor Angelica - 1996
---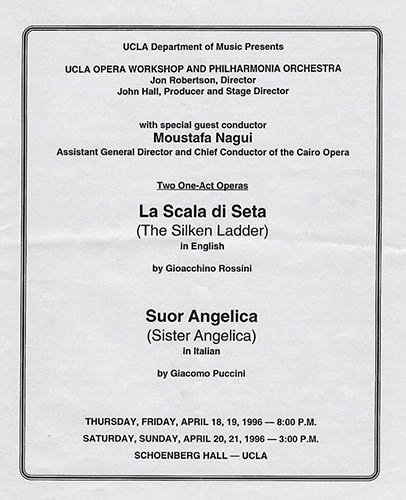 UCLA Department of Music Presents

UCLA Opera Workshop and Philharmonia Orchestra
Jon Robertson, Director
John Hall, Producer and Stage Director

with special guest conductor
Moustafa Nagui
Assistant General Director and Chief Conductor of the Cairo Opera


Two One-Act Operas

La Scala di Seta
(The Silken Ladder)
in English
Music by Gioacchino Rossini

and

Suor Angelica
(Sister Angelica)
in Italian
by Giacomo Puccini

Thursday, Friday, April 18, 19, 1996 - 8:00 P.M.
Saturday, Sunday, April 20, 21, 1996 - 3:00 P.M.
Schoenberg Hall - UCLA

We are pleased to present two very different operatic gems from the Italian repertory, Rossini's The Silken Ladder and Puccini's Suor Angelica. While separated by only slightly over 100 years, one represents a musical language familiar to Napoleon, and the other premiered when Woodrow Wilson was in the White House. With these two operas our students gain a very wide range of style, dramatically and musically. Thanks must go to the students in the Musical Theater Workshop and UCLA Chorale for their participation and support for their operatic colleagues.

We are also pleased to introduce Maestro Moustafa Nagui, Musical Director of the Cairo Opera, who conducts our students. This season, Maestro Nagui has also invited graduate students from UCLA to participate in professional productions at the Cairo Opera House, and we are proud to have our students participate in their productions of Aida and La Bohème.

These operas are produced witht the generous support of the Gluck Foundation whose interest in the Fine Arts extends from the artistic present to our artistic future by their belief in our young talent. Thank you. - Jon Robertson
About the Conductor
Dr. Moustafa Nagui has conducted countless successful concerts and operas in Egypt and abroad. A talented Egyptian artist, he is also well known as a prominent cello soloist and composer, having received several prizes for musical scores at international film festivals. Maestro Nagui contributed to the inauguration of the Cairo Opera House in 1988 with his orchestrated AlGehad Anthem and Altyarann Anthem, originally composed by Egypt's well known artist M. Abd Alwahab. As cellist he has recorded for Egyptian Radio and other foreign broadcasts and has presents recitals and symphonic concerts in Egypt, Germany, U.S.S.R., Yugoslavia, Italy, France, England, Austria, and the United States.

Nagui was born in Cairo in 1948, and studied at the Cairo Conservatory where he graduated in 1971 and was immediately appointed Assistant Professor for Cello. In 1972, he travelled to the former U.S.S.R. for further study in cello. In 1974, he was a contestant at the Tchaikovsky Competition in Moscow, receiving a Certificate of Recognition. In 1976, Nagui became the Resident Conductor of the Conservatory Orchestra, and four years later he founded the Alexandria Conservatory Orchestra.

In 1982, Nagui was appointed Resident Music Director for the Cairo Symphony Orchestra, and since 1990 he has been the Artistic General Director and the Chief Conductor at the National Cultural Center "Cairo Opera House." In 1994, Dr. Nagui successfully founded the Cairo Opera Orchestra as a second orchestra to the Cairo Symphony Orchestra.
An Opera in One Act
Music by Giacomo Puccini
Text by Grovacchino Forzano
*Premiere: Metropolitan Opera, 1918*
Cast
in Order of Appearance
Lay-Sisters
Jennifer Hall
Valerie Crolotte

Sister (Suor) Angelica
Rebecca Semrau - 4/18, 20
Myoung Gyu Carol Lee - 4/19, 21

The Abbess
Marisa Solomon - 4/18, 20
Erin Wood - 4/19, 21

The Monitress
Cameron Russell

Mistress of the Novices
Susan Mathiowetz*

Sister Lucilla
Johanna Judson+

Sister Osmina
Roya Hekmat*

Sister Genovieffa
Julianna Di Giacomo - 4/18, 20
Angela Jajko - 4/19, 21

Sister Dolcina
Britta Skumawitz*

A Young Novice
Susannah Hall*

The Nursing Sister
Angela Jajko - 4/18, 20
Julianna DiGiacomo - 4/19, 21

The Alms-Sisters
Gretchen McNeil
Jennifer Hall

The Novices
Teresa Marie Sanchez*
Samantha Appleton*
Jeanne Boland*
Devon Kelly*
Risa Larson+

Lay-Sisters
Jenni-Lynn McMillin*
Young H. Song+
Jennifer Stralla*
Danica Wanczuk+
Carolyn Toft-Balagot

The Princess (Suor Angelica's Aunt)
Erin Wood - 4/18, 20
Marisa Solomon - 4/19, 21

Offstage Chorus
Derek Billings*
Juan Garcia*
Paul Green*
Eric Green*
Karlan Judd*
Tod Macofsky*
Will Pellegrini*
Jordan Varela

Miracle
Roya Hekmat
Jonathan Hekmat

* denotes Musical Theater Workshop Member
+ denotes UCLA Chorale Member

Synopsis
In the cloister of a convent we hear the birdsong heralding spring. The nuns are singing an Ave Maria. Late for chapel, two Lay-Sisters and Sister Angelica join the refrain. After service, the Monitress assigns penance to the latecomers who did not prosrate themselves for their tardiness before entering chapel. She also punishes Sister Lucille for causing laughter during service and Sister Osmina for hiding roses in her habit.

Sister Genevieve notices the convent fountain has turned gold in the setting sun. The Monitress remarks that this only happens for three evenings in May. The sisters remember Sister Biance Rosa who died at this time last year. Genevieve, brought up as a shepherdess, confesses that she longs to hold a spring time lamb ('Soave Signor mio'). Sister Dolcina confesses that she, too, has a desire. The sisters tease her, knowing that her wish is for something good to eat. When Angelica is asked for her desires, she denies having any. The sisters are shocked because they know she longs to hear news from her noble family that has forced her to take the veil.

The Nursing Sister enters with news that one of the nuns has been stung by wasps. Angelica, known for her medicial skills prepares a remedy from her plants. The Alms-Sisters arrive with the provisions for the convent (including some berries for Sister Dolcina). They tell of seeing a magnificent coach outside the cloister.

The Abbess enters and announces that Angelica has a visitor. It is her Aunt, the Princess, who has come to ask Angelica to sign away her inheritance as a dowry for her younger sister, Anna Viola, who is to marry. When Angelica asks who her sister will wed, her Aunt replies; a man who can overlook the shame Angelica has brought to their family. Angelica calls her Aunt's coldness inexorable.

The Princess says that she often visits the grave of Angelica's mother where she communes with the spirits of the dead only to call for atonement for Angelica's sins. Angelica agrees to sign the document but demands news of her illegitimate son. The Aunt replies that the child died of fever two years earlier.

Stunned, Angelica collapses then recovers her strength to sign the document. When her Aunt leaves, she allows her grief for her child who never knew a mother's love to pour forth ("Senza mamma, bimbo, tu sei morto'). As the nuns retire to their cells, Angelica bids them farewell.

Alone, she enters the courtyard and prepares poison from her plants. She will join her child in heaven. After taking the poison she realizes that she has committed a mortal sin and prays to the Virgin for salvation. A vision of the Holy Mother with Angelica's child comforts the dying Angelica.
Jon Robertson,
Music Director and Conductor
Gregory Magie, Daniel Gary Busby, and Carlo Ponti
Graduate Assistant Conductors
La Scala di Seta

Violin I
Yuko Ishikawa, Concertmaster
Searmi Park
Greg Khalil
Jeremy Lee
Susan Parry
Esther Lee (grad.)

Violin II
Nathaniel Yoo, Principal
Victor Chen
Patty Kim
Gianna Gruenwald
Linda Lee

Viola
Vicky Shiang, Principal
Matthew Bell
Sharlene Wang

Violoncello
Abe Liebhaber, Principal
Emily Payne
Doris Chen

Contrabass
Colin Shipman

Flute & Piccolo
Arpi Anderson, Principal
Jared Ferguson

Oboe
Derek Mohachy, Principal
Jessica Hoffman (+English Horn)

Clarinet
Lea Steffens, Principal
Kelly Stout

Bassoon
Dottie Burkhart, Principal

Horn
Nathan Basinger, Principal
Annette Moore

Suor Angelica

Violin I
Karen Chan, Concertmaster
Henry Tyszler
Sandi del Rosario
Cathy Noh
Aleksandra Maslovaric-Shephard
Ying Xiong

Violin II
Shin Bong Kang, Principal
Chris Oka
Kenneth Pamatmat
Esther Lee (undergrad.)
Kimberly Hribar

Viola
Kathyn Reddish, Principal
Alex Kim
Aaron Papst

Violoncello
Eugene Sor, Principal
An-Jye Lee
Hee-young Moon
Tammy Wang

Contrabass
Colin Shipman, Principal
Michael Uhler

Flute
Jared Ferguson, Principal
Ai Goldsmith (+Piccolo)

Offstage Piccolo
Arpi Anderson

Oboe
Derek Mohachy, Principal

Clarinet
Lea Steffens, Principal
Kelly Stout

Bassoon
Dottie Burkhart, Principal

Horn
Annette Moore, Principal
Scott Cwiertny

Trumpet
Ray Novak, Principal
Matt Cody

Offstage Trumpet
Jonathan Phillips
Brian Dueppen
Paul Justice

Trombone
Rocky Waters

Harp
Ping-Ping Tang

Offstage Piano
Nina Schumann
Yuliya Barsky

Offstage Organ
Lois Holdridge

Celeste
Yuliya Barsky

Percussion
Kate Homan, Timpani
Tino Novellino
Brian Boyce

Director
Jon Robertson

Guest Conductor
Moustafa Nagui

Stage Director and Producer
John Hall

Musical Preparation
Judy Hansen
Mona Lands

Teaching Associate
Nina Schumann

Student Accompanist
Yuliya Barsky

Master Carpenter
Brian Cole

Assistant Master Carpenter
Michelle D. Eckart

Carpenters
Brendan Conner
Russ Van Orten
Greg White
Damien Rosendal
Ron Jarvis
Rodney Rincon

Master Electrician, Lighting Design
David Muller

Set and Props
Robert Deman

Costumes
David Paul

Stage Manager
Daniel Gary Busby

Event Manager Diane Connor
Diane Connor

Publicity and Programs
Kathloon Moon
UCLA Musical Theater Workshop

Director
John Hall

Musical Preparation
Joan Colman-Hoytt

Teaching Associate/Conductor
Daniel Gary Busby


UCLA Chorale

Director
Donald Neuen