The Merry Wives of Windsor - 1988
---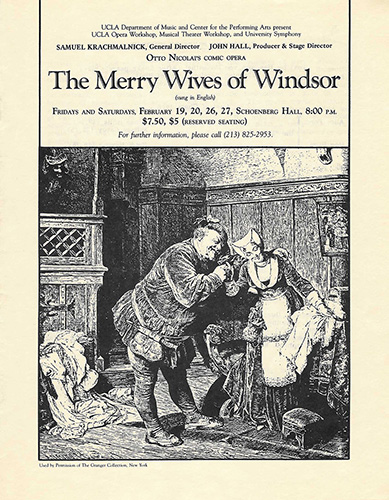 UCLA Department of Music and Center for the Performing Arts present
UCLA Opera Workshop, Musical Theater Workshop, and University Symphony

Samuel Krachmalnick, General Director
John Hall, Producer & Stage Director

Otto Nicolai's Comic Opera

The Merry Wives of Windsor
(sung in English)

An Opera in Three Acts
Text by Hermann von Mosenthal (After Shakespeare's play)
English Version by Josef Blatt
Music by Otto Nicolai

Fridays and Saturdays, February 19, 20, 26, 27, Schoenberg Hall, 8:00 P.M.
$7.50, $5 (Reserved Seating)
For further information, please call (213) 825 - 2953.
Act I, Scene I - A Courtyard between the Ford and Page houses
Act I, Scene 2 - Interior of Mr. Ford's house

Intermission

Act 2, Scene 1 - The Garter Inn Tavern
Act 2, Scene 2 - The Garden of Mr. Page's house
Act 2, Scene 3 - Mr. Ford's house

Intermission

Act 3, Scene 1 - Mr. Pages house
Act 3, Scene 2 - Windsor Forest


The Story

Act 1, Scene 1
We meet two neighbors, Alice Ford and Meg Page, both of whom have received identical love letters from the corpulent and lecherous Sir John Falstaff. Outraged, Meg wants to tell her husband, but Alice convinces her that they can have more fun playing a trick on Falstaff and teach her jealous husband a lesson at the same time. They leave to plan their scheme. We then see their husbands, Mr. Ford and Mr. Page, who enter with two suitors for the Page's daughter Anne, the timid Slender (who is Mr. Page's candidate) and the blustering Frenchman Cajus (who is favored by Mrs. Page). Fenton, the poor young man that Anne really loves, appears to ask Mr. Page for his daughter's hand. Mr. Page refuses such an offer, but Fenton is determined and vows that he and Anne will wed.

Act 1, Scene 2
Alice Ford is waiting for Falstaff, rehearsing what she will say to the old fool. She and Meg have sent an anonymous letter to Mr. Ford hinting at an illicit rendezvous with Sir John. Falstaff arrives, certain of his romance, but is stuffed into a laundry basket when Mr. Ford enters with witnesses hoping to catch his wife with her lover. Instead, he is caught and embarrassed before his neighbors, and Falstaff is dumped into the river Thames.

Act 2, Scene 1
We next meet Falstaff in the Garter Inn drinking and boasting with the locals. Mr. Ford, now in disguise as Mr. Brook, finds out that Falstaff had indeed been with his wife the previous day. He offers Falstaff some money to renew his "acquaintance" with Mrs. Ford so that he may catch his wife and gain revenge for her trick on him.

Act 2, Scene 2
Waiting to meet with Anne Page in the garden behind her home are the two silly suitors Slender and Cajus. When Fenton arrives they watch in frustration as Anne and Fenton declare their eternal love.

Act 2, Scene 3
Falstaff has just arrived when Meg Page rushes in to warn him of the unexpected return of Mr. Ford. The women disguise Falstaff as an old lady, "Mother Pratt," who is a relative of one of the Fords' servants. Mr. Ford, confident of his victory, has brought his friends to witness his triumph but is again fooled and, as he orders "Mother Pratt" out of his house, allows Falstaff to escape again.

Act 3, Scene 1
Having confessed everything to their husbands, the Fords (now reconciled) and the Pages plan one final humiliation for Falstaff. Getting their neighbors to masquerade as magical forest creatures, they plan to meet with Falstaff at midnight in Windsor Forest in the haunted grove of Herne the Hunter. Local legend said that a cruel hunter names Herne had outraged natural law with his bloodlust for the hunt. He was cursed and then forced to spend each full moon roaming Windsor Forest. He and his ghostly band would kill any mortal they found. They leave to prepare their masquerade, but Mr. and Mrs. Page each think that tonight will be perfect for the daughter to elope with their chosen suitor. Anne plans another trick and switches disguises so that Slender and Cajus will be thrown off the track, and she and Fenton can be married.

Act 3, Scene 2
Falstaff arrives promptly at midnight, wearing his disguise as Herne-the-Hunter and waiting for his "Merry Wives." They appear but are frightened away by the arrival of the magical creatures of the night, leaving Falstaff to face the ghostly band alone. After they torment the fat old knight, he repents, and the trick by the "Merry Wives" is revealed. Anne and Fenton join the game, but as husband and wife. Their trick is forgiven, and now Windsor has three "Merry Wives" instead of two.
Alice Ford (the "Merry" Wives)
Aimee Willis (19, 26)
Milissa Carey (20, 25)

Meg Page (the "Merry" Wives)
Heidi Herzog (19, 26)
Nicole Baker (20, 25)

Mr. Page (their husbands)
Michael Leoncavallo (19, 26)
Paul Trent (20, 25)

Mr. Ford (their husbands)
Christian Nova

Slender, suitor for Anne Page
Larry Johnson

Dr. Cajus, the same
Mark Dyer

Fenton, the same
Sung Hwan Cho

Anne Page
Sarah Blaze (19, 26)
Kathleen Conner (20, 25)

Sir John Falstaff
Jeff Calof

Citizens of Windsor
Alan Anderson
Duane Boutte
Dana Cote
Samantha Crisp
David Gunderman
Luck Hari
Jennine Jones
Pamela Leon
Eric Leviton
Stefanie Morse
Dan Mortenson
David Paul
Kay Peterson
Amy Rawlings
Gary Romm
Linda Samia
Rebecca Semrau
Terri Taliaferro
Janis Thomas
Sarah Uriarte
Craig Woolson
Stephanie Wurzel

Violin
Jacqueline Carrasco
Lowell Silverman, Principal Second
Steve Ettinger
Stephanny Freeman
Eric Gorfain, Concertmaster
Lupe Guerrero
Jin Han
Phillip Ho
Gene Huang
Michael Hyman
Zain Khan
Tina Lee
Paul Reese
Keith Shillito
Susan Stiffe
Alice Terada
Portia Torres
Matt Umurhan
Debbie Vukovitz
Marjory Weese
Emily Yut

Viola
Sophia Darwin
Cirilo Domine
Chris French
Derek Juhl
Amanda Kennedy
Eleanor Rieffel
Fergus Scarfe *
Yu Chen Shen
Marsha Story
Wiliwan Yuthrayard

Cello
Carol Anway
Deanna Bayless
Richard Chen
Michael Duron
Clinton Hsu
Carol Ou *

Bass
Carter Armstrong *
Simeon Pillich

Flute
Caroline Reutter **
Paul Shapiro
Jennifer Sparks **

Oboe
Margaret Gilinsky **
Molly Hansen **
Cecelia Mautner **
Karen Speary **

Clarinet
Stacey Kahn **
Amanda Walker **
Monique Young

Bassoon
Sarah Howard *
Ralph Jones

Horn
Sarah Crampton *
Alice Hunt
Jeff Schwartz
Gregory White

Trumpet
Bernard Scherr
Rob Wilkins *

Trombone
David Ho
James King
Michael Stone *

Timpani
David Early

Percussion
Kenneth McGrath
Stephen Goldbaum

Harp
Kathleen Moon

Teaching Assistant
Bernard Scherr

* Principal
** Co-Principal

About the Composer

If Otto Nicolai had not died two months after the premiere of Merry Wives of Windsor in 1849, Germany might have had a composer to link the Romantic tradition established by Beethoven and completed by Wagner. Italian trained, Nicolai has been described as using Italianate melodies with German orchestration. Certainly, his grasp of operatic techniques is sure in the balance of ensembles and arias of Merry Wives. The opera moves quickly, and the musical characterizations are clear. Some of the numbers remind us of Mendelssohn, others of Schubert or Weber. But with Merry Wives, Nicolai accomplished what his more famous colleagues could not . . . a truly successful comic opera that holds the stage today, long after their operatic attempts are forgotten.


About the Cast

Currently a graduate student in historical musicology, NICOLE BAKER received her MFA in vocal performance from UCLA last year. She has appeared with the Opera Workshop as Dorabella in Mozart's Così fan tutte, in Milhaud's Trois operas minutes and in the premiere of Martin Mangold's Bleah! which was performed for the 1985 National Opera Convention. Last summer was spent studying opera with the American Vocal Institute in Graz, Austria. A student of Kari Windingstad, Nicole is also a teaching assistant in the UCLA Department of Music, and was a recipient of the Gladys Turk Award in Voice at UCLA.

SARAH BLAZE was last seen as the Princess in Thomas Pasatieri's opera The Goose Girl. Previous credits include Despina in Così fan tutte, and Celie in Signor Deluso also by Pasatieri. A senior studying with Tim Mussard, she will give her final recital in May. Sarah was a member of the UCLA Chamber Singers tour to Australia last year and was a prize winner in this year's Atwater Kent Competition.

Bass-baritone JEFF CALOF has appeared as Don Alfonso in Mozart's Così fan tutte, the sergearnt in La Bohème by Puccini, and as the King in Pasatieri's The Goose Girl at UCLA. A senior majoring in Philosophy, he has also performed with the CalState L.A. Opera Workshop in their production of Rossini's The Barber of Seville.

MILISSA CAREY is a graduate of the San Francisco Conservatory of Music and is currently studying voice with Herta Glaz at USC where she performed Fiordiligi in Così fan tutte last year. A Univeristy Extension student with our workshop, Mrs. Ford is her debut role with us.

A native of Korea, SUNG HWAN CHO, is in his second year of the MFA program at UCLA. Last season he sang Ferrando in Così fan tutte in Schoenberg Hall; he has also appeared in Signor Deluso and The Goose Girl by Thomas Pasatieri. A student of John Guarnieri and Tim Mussard, Cho will sing his second graduate recital in April. He has been a recipient of the Gladys Turk Award for voice at UCLA.

Soprano KATHLEEN CONNER is a senior studying voice with Dorothy Warenskjold and will give her final recital in May. Appearances with the UCLA Opera Workshop have included Lauretta in Gianni Schicchi by Puccini, Despina in Mozart's Così fan tutte, and the stenographer in Mangold's Bleah! Kathleen has also appeared with the opera workshops at USC and CalArts.

MARK DYER made his UCLA Opera Workshop debut last quarter in Salieri's The Little Harlequinade. A senior English major, he studies voice with Kari Windingstad and has been a member of the UCLA Concert Choir and Chamber Singers.

The comic role of the waiting woman in Pasatieri's The Goose Girl was mezzo soprano HEIDI HERZOG's UCLA Opera Workshop debut last quarter. A junior music major studying with tim Mussard, Heidi will give her first recital here this spring.

This is the third appearance with the UCLA Opera Workshop for senior LARRY JOHNSON. He was Parpignol in Puccini's La Bohème and sang the role of the young man in Boris Blacher's The Tide. A Theater Arts major, Larry is interested in playwriting and has had two original musicals produced here at UCLA. He also performed in the Theater Arts productions of Joseph and the Amazing Technicolor Dreamcoat and Most Happy Fella.

MICHAEL LEONCAVALLO is a senior Theater Arts major. A longtime member of the UCLA Men's Glee Club, Michael studies voice with Donn Weiss and has also been a member of the Music Theater Workshop where he made his Schoenberg Hall debut in Salute to Hollywood. (Yes, he is related to the operatic composer of Pagliacci.)

Baritone CHRISTIAN NOVA is completing his second year in the MFA program at UCLA. He has appeared as Guglielmo in Mozart's Così fan tutte, as Falada, the horse, in Pasatieri's The Goose Girl and as the Plaintiff in Bleah! by Martin Mangold. Also a member of the UCLA Music Theater Workshop, Christian was a performer in Life is a Musical Comedy, an original musical presented by that group last season. He has performed in Sweeney Todd, West Side Story, and The Desert Song with companies in Southern California. He studies voice with Tim Mussard and just gave a Schoenberg Hall recital featuring works by Telemann, Martin, Barber, and UCLA graduate composer Jake Heggie. Winner of this year's Atwater Kent Competition in voice, Christian is also the recipient of a Gladys Turk Award for vocal study at UCLA.

A senior with the World Arts and Cultures interdisciplinary program at UCLA, baritone PAUL TRENT made his UCLA Opera Workshop debut last quarter as the Prince in Pasatieri's The Goose Girl.

AIMEE WILLIS is a junior music majoring studying voice with Tim Mussard. At UCLA she has appeared as the plaintiff in Gilbert and Sullivan's Trial by Jury, as Fiordiligi in Mozart's Così fan tutte, and as the Queen in Pasatieri's The Goose Girl with the UCLA Opera Workshop. Aimee also performed the role of Rosabella in Most Happy Fella in the UCLA Theater Arts department production. While at UCLA Aimee has won the John Gary Vocal Award and has been a winner in the Atwater Kent Competition.
Conductor
Samuel Krachmalnick
Producer & Stage Director
John Hall
Set Designer
Robert Deman
Lighting Design
Greg Sullivan
Costumes
Edythe Johnson
Hair and Makeup
Rick Parker
CASO Event Manager
Pat Flanagan
Stage Manager
Roger Malouf
Scenic Painter
Jack McCullagh
Movement Coach
Sarah Grossman
Musical Preparation
Theodore Crain
James Low
Pamela Palmer
Laraine Stivers
Joan Colman
Norman Mamey
UCLA Opera Workshop
General Director
Samuel Krachmalnick

Producer & Stage Director
John Hall

Musical Coaching
Theodore Crain
James Low
Roger Malouf
Laraine Stivers

French & German Diction
Sybil Hast

Wardrobe
Edythe Johnson

Teaching Assistant
Pamela Palmer


UCLA Music Theatre Workshop

Director
John Hall

Musical Coaching
Joan Colman

Movement Instructor
Sarah Grossman

Teaching Assistant
Norman Mamey


UCLA University Symphony Orchestra

Music Director & Conductor
Samuel Krachmalnick

Teaching Assistant
Bernard Scherr


UCLA Vocal Department

Heinz Blankenburg
John Guarnieri
Timothy Mussard
Mary Rawcliffe
Dorothy Warenskjold
Kari Windingstad