Lakmé: Redux - 2005
---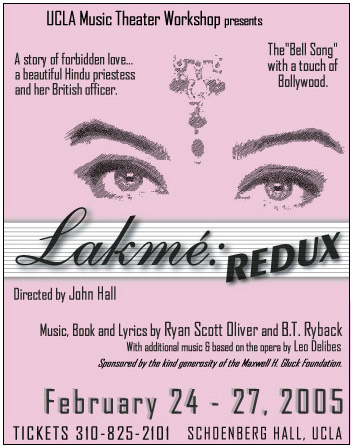 UCLA Music Theater Workshop presents

Lakmé: Redux

Directed by John Hall

Music, Book and Lyrics by
Ryan Scott Oliver and B.T. Ryback
with additional music and based on the opera by Leo Delibes

Sponsored by the kind generosity of the Maxwell H. Gluck Foundation.

February 24 - 27, 2005
Schoenberg Hall
About Lakmé: Redux

Take two young composers and a creaky old French opera with a couple of hits put them together, shake well and, if you are lucky, you end up with Lakmé:Redux. This new mix of Music Theater that you are witness to came together because of 1) I wanted to celebrate UCLA's Year of the Arts with a new work created by students 2) I wanted my cast to perform a work that had no history or previous conception, they would have to build their characters and shape their songs without an "original cast" album for reference 3) I had been charmed by the energy and exuberance of the Bollywood musicals from Indian cinema.

First performed in Paris in 1883, Lakmé was an instant success for composer Leo Delibes and was kept in the repertory of the Opera Comique for over 80 years. Its most famous piece was the Bell Song, a favorite of coloratura sopranos. This and the beautiful Flower Duet, which is familiar to most audiences because of British Airways ads, are all that we've kept from the original Lakmé. The rest of what you will experience is Redux or retelling of the story. Two undergraduate composers B.T. Ryback and Ryan Scott Oliver wrote music, book and lyrics for our production.

Both of these young men are fine performers and have had leading roles with UCLA Music Theater Workshop. They are passionate about Music Theater and have written other shows individually. Working together on this project has been an education for us all. The story of star-crossed lovers is a favorite in Music Theater (West Side Story, Miss Saigon) and the composers were eager to try to write character songs and vengeance arias as well as love duets. Their creative work is now on display. I have been honored to produce and direct this new piece, which I now share with you. - John Hall

Recognizing the quality of instruction and motivation of student talent, the Maxwell H. Gluck Foundation helps to support the productions and activities of the UCLA Music Theater Workshop. This production is made possible by their continued generosity and we thank them very much.We also wish to thank Debby and Tony Hall, the IBM Matching Grant Program and Carol Burnett for their continued support throughout the years of the UCLA Music Theater Workshop.
Prologue

Opening
"And the World Stopped Spinning"
Hadji, Nilikantha, The British, The Hindus


ACT ONE

Scene One: A Sacred Garden

"Look to This Day!" - Lakmé, The Hindus

"You Shall Know the Springtime" - Lakmé, Mallika

"The Worship of a Woman" - Frederick, Rose, Miss Bentson, Ellen, Gerald

"Give Me a Taste" - Gerald

"Same Story" - Gerald, Lakmé

Scene Two: A Bar

"Kama, The Desire for Love" - Hadji, Dharma, Artha, Kama

"Proper English Ladies" - Miss Bentson, Rose, Ellen, Bar Patrons

"Nilikantha's Cry" - Nilikantha

"Fabulous" - Ellen

"The Bell Song" - Lakmé, The Hindus

"All We Can Do" - Mallika, Rose


ACT TWO

A Jungle Hut

"Being Reborn" - Gerald, Lakmé, The Hindus

"Good-bye" - Frederick, Gerald

"Love/Lose/Die" - Lakmé, Ellen, Gerald

"What It's Worth" - Lakmé

Finale - Hadji, The People of India, The British
Hadji, our storyteller, begins to tell the Hindu creation story - but is brashly interrupted by a group of British invaders. The colonization of India has begun (Opening / And the World Stopped Spinning).

ACT ONE - India, 1930. - Scene One: A Sacred Garden

The priestess Lakmé sings to the Hindu worshippers in morning prayer (Look to this Day!). Her father, Nilakantha, deeply embittered by British persecution, has forbidden Lakmé to go outside the garden. As the faithful disperse, Lakmé dreams of being free and falling love. Mallika, her attendant, assures her that when the time is right, she will know love (You Shall Know the Springtime).

After the women exit, a group of five British burst into the garden: Gerald, a British soldier; Ellen, his fiancée; Rose, her older sister; Frederick, Gerald's friend; and Miss Bentson, the girls' governess. Learning of the priestess Lakmé, the five argue over "The Worship of a Woman." When the others want to leave, Gerald offers to stay behind to photograph a beautiful necklace that Ellen wishes for her wedding day. Left alone, Gerald begs for adventure in this exotic land (Give Me a Taste). Lakmé appears, and the two share an awkward introduction. Intrigued with each other they share stories of forbidden love (Same Story) and their attraction grows. However, their meeting is interrupted by Mallika and Nilakantha. Gerald narrowly escapes, but the priest sees his camera and explodes with rage, vowing vengeance upon the trespasser who has profaned his precious daughter.

Scene Two: A Bar

Hadji, sings to a group of bar patrons with "Kama, The Desire for Love" over other life values, including religion and wealth. Ellen, Rose and Miss Bentson enter, impatiently waiting for Frederick and Gerald. Miss Bentson warns the girls to remember that they are "Proper English Ladies." Observing the British women, Nilakantha is sure that the trespasser is near, and plots his revenge (Nilakantha's Cry). Ellen begins to fear that her husband-to-be may be having second thoughts about their wedding. Trying to please him, she offers to have their wedding in India (Fabulous). Nilakantha forces Lakme to sing (The Bell Song). As he predicted, Gerald reveals himself and Nilakantha strikes, stabbing him. Frederick goes after the attacker, Lakmé begs Hadji to hide the wounded soldier, leaving Rose and Mallika to realize that they must take matters in hand ("All We Can Do") to avoid further disaster.

ACT TWO - A Jungle Hut

Safe in the forest, Lakmé and Gerald take comfort in each other's embrace (Being Reborn). But their peace is broken when Frederick, guided by Rose, approaches the lovers hut. He confronts Gerald but to his surprise, Gerald refuses to leave saying that he truly loves Lakmé (Good-bye). Meanwhile, Mallika has told Lakmé of Gerald's engagement to Ellen, and Lakmé returns to the hut to find Ellen has arrived. The three central characters are brought together in a trio of conflicted emotions (Love/Lose/Die). Misunderstanding Gerald's intentions Lakmé takes poison. Learning the truth she tries to comfort Gerald. (What It's Worth)

As the sun rises, the British board their trains and leave the people of India in peace.
Hadji, our storyteller
Rodell Aure Rosel

Nilakantha, a Hindu priest
Ralph Cato

Lakmé, his daughter
Khori Dastoor

Mallika, Lakmé's confidante
Rachel Evans

Gerald, a British officer
Nathaniel Reynolds

Frederick, his friend
Daniel Lincoln

Ellen, Gerald's fiancee
Kelly McLean

Rose, her sister
Rose Beattie

Miss Bentson, their Governess
Susan Ilene Johnson

Darma
Erika Whalen

Artha
Britta Hoskins

Kama
Ali Gee
Shiraz, the bartender
Tim Chang

Outcast Child
Jennifer Grace

Vishnu
Aleks Pevec

Tigers
Jonathan Bryson
Dan Chang


Ensemble

Jonathan Bryson
Daniel Chang
Timothy Chang
Rachel Evans
Casey Fichtner
Alison Gee
Jennifer Grace
Britta Hoskins
Matthias Metternich
Jeanette Mills
Aleks Pevec
Jessika Van
Karen Vuong
Alison Webb
Erika Whalen
Bryan White
Violin
Lindsey Strand-Polyak
Eric Wuest
Lian Liu
Catherine Chyi
Annie Yang
Meenah Paik

Viola
Edwin Kaplan
Jeffrey Steinberg

Cello
Alisha Bauer, Principal
Miri Byeon
Jason Aiello

Contrabass
Alex Larue

Flute
Mya Caruso

Oboe
Taylor Mathews

Clarinet
Denexxel Domingo
Chelsea Lumley
Bassoon
Tobias

Alto Sax
Joe Hayes

Horn
Sabrina Goldberg
Jennifer Bliman

Trumpet
Max Hembd
Ben Tellinghuisen

Trombone
Josh Salsbury

Percussion
Nathan Eby
amie Strowbridge

Tabla
Ravindra Eknath Deo

Piano
Brian Michael

Keyboard
Dwayne Milburn

Harp
Micah
Rose Beattie (Rose) loves singing and teaching voice in Los Angeles. She is a UCLA Masters of Music student and has her Bachelors of Music from USC's Thornton School of Music.

Jonathan Bryson (Tiger/Ensemble) hails from Yuba City, California, and has appeared in many Sacramento-area productions including A Funny Thing Happened on the Way to the Forum, Snoopy, and Gypsy. He is very excited to be in his first full-scale show with UCLA Musical Theater Workshop.

Baritone Ralph Cato (Nilakantha) has been a featured artist with the Chicago Sinfonietta, the Pacific Chorale, the Cologne Philharmonic, and Riverdance, The Show. Onstage, he has appeared as Marcello, Figaro, Germont, and Sportin' Life.

Dan Chang (Tiger/Ensemble) is finishing up his last year at UCLA as a Poly Sci major, and is happy to be a part of Lakmé and thanks John, the cast and his friends and family for making him who is he today.

Tim Chang (Shiraz/Ensemble) made his Music Theater Workshop debut last quarter in the revue Loesser is More. Among his long term goals is a dream of stardom as a singing duo with his brother.

Khori Dastoor (Lakmé) was Maria in last season's West Side Story and then won the Carol Burnett Award in Music Theater performance. She is a graduate student in vocal performance and has done many, many outreach programs with the Los Angeles Opera.

Rachel Evans (Mallika) is a first year Master's student majoring in music. Also at UCLA, she can be seen as Fate (Lorca: Child of the Moon) and Dorabella (Così fan tutte). Past roles include Nancy (Albert Herring), L'enfant and L'ecureuill (L'enfant et les sortiléges).

Casey Fichtner (Ensemble) is a 3rd year Anthropology student and musician. This is her 2nd show with the UCLA Musiccal Theater Workshop, following her debut in Westside Story.

Ali Gee (Kama/Ensemble) is currently a second year business/economics major and is thrilled to be back performing in Schoenberg. She would like to thank the cast and crew, and dedicates her performances to Reinhardt Krekow, in loving memory.

Jennifer Grace (Outcast Child/Ensemble) is originally from Buffalo, N.Y. A first year student she made her Music Theater Workshop debut in Loesser is More.

Communications major Britta Hoskins (Artha/Ensemble) is a senior with a passion for Broadway musicals, particularly by Kander and Ebb. Her Schoenberg Hall debut was last year in West Side Story.

Susan Ilene Johnson (Miss Bentson) was last seen as the Nurse in Shakespeare's Romeo and Juliet at the Los Angeles Theater Center. She appeared in the film Nine Months with Hugh Grant and has guest-starred on television's Seinfeld, Mad About You and 3rd Rock from the Sun.

Daniel Lincoln (Frederick) has performed professionally on stage, screen, and in recording studios since the age of 7. A 3rd-year undergraduate voice and music composition major at UCLA, he joins the cast of "Lakmé: Redux" in his second production with the UCLA MTW.

Kelly McLean (Ellen) is thrilled to play the "fabulous" role of Ellen. Her previous credits include the Narrator in Joseph, Cassie in A Chorus Line and Billie in Babes in Arms. She dedicates this performance in loving memory of Mark Liddy.

Jeanette Mills (Ensemble) is a sophomore double major in World Arts and Cultures and Marine Biology. Thanks to Mom and Dad and Josh for their unending support, and especially to Dad for taping everything she's ever been in.

Aleksandr Pevec (Vishnu/Ensemble) is a graduate of the Los Angeles School of the Arts. He played A-rab in the Music Theater Workshop production of West Side Story last season and was a prize winner in the Carol Burnett Awards.

Nathaniel Reynolds (Gerald) will graduate this June with a Master of Music degree in Vocal Performance. UCLA credits include Tony in West Side Story and Mayor Upfold in Albert Herring by Britten. He thanks his family, Petra, John Hall, Daniel Cummings and the UCLA Music Theater Workshop.

Rodell Aure Rosel (Hadji) joins the Chicago Lyric Opera Center for theior 2005-2006 season. At UCLA he has appeared in La finta giardiniera, L'enfant est les sortiléges, L'heure espagnole and the title role in Albert Herring.

Jessika Van (Ensemble) is a World Arts and Cultures major making her UCLA Music Theater Workshop debut. In addition to her studies she enjoys teaching dance and coaching a dance team for competitions.

Karen Vuong (Ensemble) will be the third year undergraduate voice major's second UCLA musical production. She will also be appearing in UCLA Opera'a "Lorca", as the Shoemaker's Wife, as well as playing the role of Despina in UCLA's "Così Fan Tutte".

Allie Webb (Ensemble) is a first year English major from Bakersfield. Her credits include Mrs. McAfee in Bye Bye Birdie, Simon in Jesus Christ Superstar and Bertrande in Martin Guerre. She thanks her family and friends for their support.

Erika Whalen (Darma/Ensemble) A senior who made her Music Theater Workshop debut as May in Andrew Lippa's The Wild Party. She has numerous professional credit including Minnie Faye (Hello, Dolly!) at the Lawrence Welk Theater in Orange County.

Bryan White (Ensemble) is a first year student from Newport Beach. He made his workshop debut in Loesser is More last quarter.
Production Biographies
Ryan Scott Oliver (Composer/Lyricist/Arranger) hails from Southern California. He is also a performer singing leading roles in the Workshop productions of Triumph of Love and West Side Story. A senior majoring in Composition, Ryan has written three musicals, an opera and has served as Music Director of many productions including the Award winning Hedvig and the Angry Inch at the Celebration Theater.

B.T. Ryback (Composer/Lyricist/Arranger) is a junior composition major from Milwaukee, Wisconsin. He began performiong at the age of five and has been writing shows since he was fifteen. His musical High School was featured in the Francis Ford Coppola Festival of One-Acts at UCLA last quarter. As a performer he was featured in the workshop productions of The Wild Party and West Side Story.

Michael Aspinwall (Assistant Director) comes to UCLA from Great Falls, Montana. His debut with the workshop was Eddie in Andrew Lippa's The Wild Party. He directed a musical by B.T. Ryback last year and has directed summer stock productions across the Mid-West.

With her home base in Carlsbad, Yoli Bennett (Costume Designer) has created clothes for many Southern California productions of Music Theater as well as being Wardrobe Supervisor for Legoland California. At UCLA we have been fortunate to have her designs for Into the Woods, You're A Good Man Charlie Brown, Once Upon A Mattress, Babes in Arms and West Side Story.

Steven Bray (Assistant Director) is a graduate of Whitworth College and Circle-in-the-Square Professional Training Program. He has directed The Fantasticks, Seven Brides for Seven Brothers, The Golden Age and will direct As Bees In Honey Drown by Douglas Carter Beane at the ARK Theater in Los Angeles in June.

Paul Chihara (Orchestration) made his Broadway debut in 1980 as Music Consultant and Orchestrator for Duke Ellington's hit SOPHISTICATED LADIES. He later served as Music Supervisor and Chief Arranger for the National Company of Rodgers and Hart's ON YOUR TOES. He composed the music for James Clavell's SHOGUN, THE MUSICAL, which opened at the Mariott Marquis in November, 1990, and ran for 104 performances. He has also composed the scores for over ninety films and TV shows.

Eileen Cooley (Lighting Designer) is best known for her designs for dance companies. From folk dance to modern dance or classical ballet she creates a special ambience that enhances movements with color and form. At UCLA we have enjoyed her stunning lighting in such varied repertory as Babes In Arms, You're A Good Man Charlie Brown, and West Side Story.

Daniel Cummings (Musical Direction) is a 2nd year DMA student in Orchestral Conducting and Teaching Assistant for UCLA Music Theatre Workshop. Last year Daniel served as Music Director for UCLA Music Theatre Workshop's production of Westside Story. He also served as Music Director/Vocal Arranger for the musical reviews, Loesser is More, You Could Drive a Person Crazy and the 2004 Carol Burnett Awards.

The versatile Robert Deman (Scenic Design) has designed sets for many UCLA productions of opera and music theater.. His recent designs for UCLA Music Theater Workshop include Babes In Arms, Triumph of Love, Into the Woods, Once Upon A Mattress and West Side Story.

John Hall (Director/Producer) has produced and directed over 100 productions of opera and Music Theater for UCLA Department of Music. John Hall also teaches at SongFest where he will join master teachers Graham Johnson, Martin Katz and composer John Harbison this summer to work with young singers.

Carlos Jones (Choreography) returns to UCLA after a 3 year hiatus in New York City. His choreography appeared in the previous Musical Theatre Workshop productions: Dames at Sea, Godspell, Flora the Red Menace, Into The Woods, Once Upon a Mattress, West Side Story and Babes in Arms.
Director/Producer
John Hall

Music Direction
Daniel Cummings

Choreography
Carlos Jones

Costume Design
Yoli Bennett

Lighting Design
Eileen Coolie

Scenic Design
Robert Deman

Orchestration
Paul Chihara

Production Manager
Patrick Brambilla

Spot Operators
Don Kidd, Lou Albruzzese
Master Electrician
Scott LeGrand

Stage Crew
Amy Domjan

Musical Coach
Brian Michael

Graphics
Jeffrey Spector

Assistant Directors
Michael Aspinwall
Steven Bray

Assistant to Costumer
Mary Margaret Becker
Todd Caleca


Special Thanks to John Hayes,
Martha Rider, Jenny Molina
UCLA Arts
UCLA School of the Arts
and Architecture
Chris Waterman, Dean

UCLA Department of Music
Ian Krouse, Chair
About the UCLA Music Theater Workshop
Recognizing the artistic importance of American Music Theater, the UCLA Department of Music created the UCLA Music Theater Workshop in 1975. Under the guidance of John Hall, UCLA students have had opportunities to work on their performance skills, audition techniques and repertory through productions of both standard and rarely heard Broadway shows, premieres of student compositions and original revues highlighting composers and lyricists in this field.

Recent productions by the UCLA Music Theater Workshop include "West Side Story," "The Wild Party," the original 1937 version of Rodgers and Hart's "Babes in Arms," Sondheim's "Into the Woods," the Los Angeles premiere of the revised "You're A Good Man Charlie Brown," and "Once Upon A Mattress" directed by Carol Burnett.

The UCLA Music Theater Workshop also trains graduate student conductors and our alumni in this field includes the assistant conductor of the Pittsburg Symphony Orchestra, the conductors of the Knoxville Symphony, the Glendale Symphony, the UC Irvine Symphony and the Ray Bolger Program in Musical Theater.

The UCLA Music Theater Workshop offers performances to Los Angeles School children through UCLA's Design for Sharing and the UCLA Music Department's Outreach program. They also perform for charities and fundraisers and received a special commendation by the City of Los Angeles for their continued support of the West Valley Food Pantry.

Alumni of the UCLA Music Theater Workshop are found on Broadway, in national and international touring companies, regional theaters and Civic Light Operas as well as in television, movies, theme parks and cruise ships around the world.

UCLA Year of the Arts