The Cadi Outwitted - 1975
---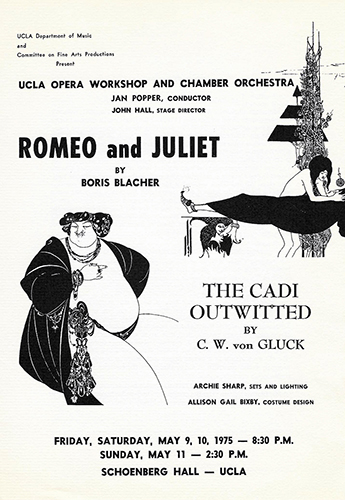 UCLA Department of Music
and
Committee on Fine Arts Productions
Present

UCLA Opera Workshop and Chamber Orchestra
Jan Popper, Conductor
John Hall, Stage Director


Romeo & Juliet
by Boris Blacher

and

The Cadi Outwitted
by C.W. von Gluck

Archie Sharp, Sets and Lighting
Allison Gail Bixy, Costume Design

Friday, Saturday, May 9, 10, 1975 - 8:30 P.M.
Sunday, May 11, - 2:30 P.M.

Schoenberg Hall - UCLA
Le Cadi Dupé (The Cadi Outwitted)
Although Christoph Willibald Gluck (1714 - 1787) is primarily known for his reform opera Orfeo ed Euridice (1762) or his tragic works Alceste (1767) and the two (1774 - 1779), preceding these masterpieces are many works for the Viennese stage adapted from the French opera comique. This form of comic opera was a very popular entertainment at the large Parisian fairs. At first, poets fitted their verses to popular tunes and folk melodies, but as the popularity of the opera comique grew original music was composed. The Viennese court was anxious to hear some of these popular works and Gluck's patron Count Durazzo arranged for Gluck to adapt these operas for the Viennese stage. At first Gluck conducted the music and composed new numbers where he thought the original music unsuitable. Eventually the entire scores were replaced with newly composed music. Our opera Le cadi dupé is one of those works. Originally it was presented at the St. Laurent fair under the title Les Milles-et-une Nuits by Le Monnier with airs composed by Monsigny in 1761. His story was adapted by Gluck to his music for production that same year in Vienna at Schoenbrunn Palace.

Romeo Und Julia (Romeo and Juliet)
Born in China in 1903 of German parentage, Boris Blacher went to Berlin in 1922 to study piano and theory at the conservatory. When the National Socialists came to power his music was branded degenerate and it was only the intervention of the conductor Karl Böhm that kept him from exile. In 1943, while visiting his friend Gottfried von Einem in Austria, Blacher formed plans for Romeo und Julia. Knowing that operas of Wagnerian or Straussian proportions would be impossible to produce in war ravaged Germany, he conceived of a styled intimate work that could be staged economically. Distilling Shakespeare's tragedy to a skeletal plot the tragedy of the teenage lovers becomes even more stark and disturbing. First staged in 1950at the Salzburn Festival; the cast included Hilde Gueden, Hermann Uhde, Sieglinde Wagner and Kurt Böhme with Josef Krips conducting. Today the work stands as a unique fusion of chamber music, choral work and dramatic action combined in a way that holds the audience by understatement.

Since forming our plans to perform Romeo und Julia, we received word of Mr. Blacher's death. The Department of Music dedicates our performances to the memory of Boris Blacher, educator, librettist and composer.
(The Cadi Outwitted)
Comic Opera in One Act by
Christoph Willibald Gluck
English Version by Ruth and Thomas Martin
Musical Adaption by J. N. Fuchs

Time: Imaginary Turkey
Place: The Cadi's House

The Cadi (an omnipotent judge and ruler) is sufferring from a terminal case of letchery. Ignoring his faithful wife Fatima he chases every woman he can find. Zelmira who loves Nuradin fears that he will refuse to allow their marriage. She forms a deceptive plan to outwit the Cadi's advances and return to the arms of Fatima.
The Cadi Outwitted Cast
The Cadi
Alan Gilbert

Fatima, his wife
Beverly Crain
Suzanne Weiss

Zelmira
Susan Dixon
Brenda Pesola

Nuradin
Eric Walters

Omar, a dyer
Steve Rothblatt

Omega, his daughter
Susan La Croix
Ann Lazaroff

(Romeo and Juliet)
Chamber Opera in Three Parts after Shakespeare by Boris Blacher


Part One

(1) The chorus warns the feuding factions of Verona that any further bloodshed will not be tolerated. The punishment is exile or death.

(2) Lady Capulet asks Juliet if she has any feelings toward marriage. Young Paris, a suitable candidate will attend their party that evening.

(3) Capulet, playing genial host, invites his guests to dance. While dancing Tybalt notices a stranger, it is Romeo, an enemy of Montague.

(4) The chorus reveals the true identities of Romeo and Juliet and warns them of further involvement.

(5) The chorus sings of Queen Mab the fairy mid-wife.

(6) Romeo visits Juliet beneath her balcony; they pledge their love.


Part Two

(7) The chorus sings of the cold dawn of reality which turns virtue to vice and life to death.

(8) Juliet waits to hear news of Romeo through her liaison, the Nurse.

(9) The chorus warns Romeo to flee Verona. The duel between Mercutio and Tybalt and Romeo's subsequent slaying of Tybalt has placed his life in danger.

(10) Romeo and Juliet awake after their one night together. Romeo must leave for Mantua and leave his bride behind.

(11) Lady Capulet cannot understand Juliet's unhappiness and refusal to marry Paris. Capulet orders his daughter to obey or leave his house.

(12) The chorus tells Juliet of a possible plan. She is to take a potion which will give her the appearance of death. Romeo can then come to her tomb and take her away to Mantua.


Part Three

(13) Julet's kinsmen carry her lifeless body to the tomb.

(14) Romeo hears news of Juliet's death and returns to Verona.

(15) He finds her grave and kills himself in despair.

(16) Juliet awakens, finds Romeo's body and joins him in death.

(17) The chorus laments the waste of the young pair. They curse the hatred which has brought such cruel loss.
Romeo
John Deaver

Juliet
Sharon Allen
Donna Robin

Lady Capulet
DiAnne Grahl

The Nurse
Lynn Borok

Capulet
Burman Timberlake

Tybalt
John Miller

Benvolio
Doug Eastman
Mel O'Meara

Ensemble
Mary Crawford
Patti Goff
Karen Kersey
Ann Lazaroff
Melinda Leoncini
Pamela Scanlon
Barbara Tennison
Ford Waite
Diana Zaslove

Mehli Mehta, Director
Violin
*Stanley Plummer (Concertmaster)
Anne Black
Stephen Boone
Christine Moran
Kristin North
Margaret Wooten
Dorothy Yamamoto

Viola
*Sven Reher
Anne Lokken

Cello
*Cesare Pascarella
Melanie McNeill

Bass
*Peter Mercurio

Flute
*Sheridon Stokes
Lenora Warkentin

Oboe
*Bert Gassman
Barbara Goorevitch
Lawrence Tunick

Clarinet
*Gary Gray
Daryll Stevens

Bassoon
Kent James
David Holcomb

French Horn
*Sinclair Lott
Chris Van Steenbergen
Lucille Mitchell
William Melton

Trumpet
Jack Hollander
David Heckerman

Percussion
*Charles DeLancey
Greg Goodall
Bill Zampino

Piano
Peggy Sheffield

*UCLA Faculty Member

Jan Popper
Founder - Director
Mario Carta and Peggy Sheffield
Musical Preparation and Repertoire
Alan Gilbert and John Hall
Stage Directors
Trevor Thomas and Kate Hendon
Coaches
Sybil Hast
French and German Diction
Mario Carta
Italian Diction
Bonnie Mayhew
Secretary
Edythe Johnson
Costumes Mistress
Staff for these Performances
Jan Popper
Conductor

John Hall
Stage Director

Peggy Sheffield
Musical Preparation

Archie Sharp
Scenic and Lighting Design

Allison Gail Bixby
Costume Design

Sybil Hast
German Diction

John Hayes
Music Department Representative

Carol Vane
Program and Publicity

Dick Houdek
Press and Publicity

The Workshop would like to express grateful appreciation to our colleagues at City of the Angels Opera Company for their assistance with this production. Also, our sincere thanks to the performing faculty and students who comprise our chamber orchestra.
(The following images are from The Cadi Outwitted)