The Apothecary - 1993
---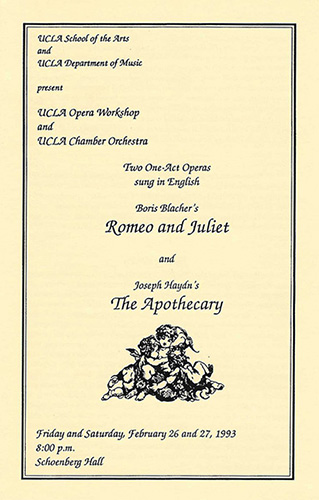 UCLA School of the Arts and
UCLA Department of Music
present

UCLA Opera Workshop and
UCLA Chamber Orchestra

Two One-Act Operas
Sung in English

Boris Blacher's
Romeo and Juliet

and

Joseph Haydn's
The Apothecary

Edited by Dr. Robert Hirschfeld
Adaptation and English translation by Thomas Sherman

Friday and Saturday
February 26 and 27, 1993 at 8pm
Schoenberg Hall, UCLA
"Welcome, dear ladies and gentlemen, to the UCLA Opera Workshop presentation of two chamber operas: Haydn's sunny, silly farce of young love in a drug store, The Apothecary (1768) and a unique setting of Romeo and Juliet (1947) by the contemporary German composer Boris Blacher. With these two very different pieces of music theater we hope to give our student performers a chance to strengthen their performing skills with vastly differing musical and dramatic styles. These workshop productions also feature student designers from the UCLA Department of Theater Arts for the lights, sets, and costumes. The stage director for Romeo and Juliet is a second-year graduate student in that department, and the music director for Romeo and Juliet is a first-year graduate conducting students in the Music Department. So…as you can tell, a lot of learning has taken place in these first few weeks of 1993. We hope that it is as entertaining for you as it has been good work for us.
Romeo and Juliet fall in love at first sight. They refuse to be defeated by the relentlessly oppressive law of their feuding parents. Their impatient need to be together engages us in the sensuality of their pure desire. Boris Blacher's concern is with the point of view of these two lovers as they are surrounded by a community that is determined to keep them apart. His expressionistic, "scrapbook" version of Shakespeare's play theatricalizes the question of whether or not Romeo and Juliet are ultimately successful. Courtney Selan
Romeo and Juliet Cast
Opera in One Act
Music and Libretto by Boris Blacher
Juliet
Christina Nuki

Romeo
Jon Augustine

Lady Capulet
Shauna Hart

Tybalt
Eli Gunnell

Benvolio
Rob Shacklett

Peter
Midge Layton

Nurse
Erin Wood

Capulet
Eric Jordan

Ensemble
Sabrina Francis
Holly Zell
Heather Gold
Deborah Klinger
Esther Dirnberger
Casie Marquart
Bryan Chesters
Christ Rhodes
Wendy Cooper

Romeo and Juliet Orchestra
Violin I
Billy Kim

Violin II
Philip Vaiman

Viola
Matt Nabours

Cello
Elizabeth Wright

Bass
Chris Williams

Flute
Stephanie McNab

Bassoon
Peggi Smith

Trumpet
Carolyn O'Keefe

Piano
John Ballerino

Romeo and Juliet Credits
Conductor
Mark Barville

Stage Director
Courtney Selan

Set Designer
Emily Phillips

Lighting Designer
Kathy Eads

Costume Designer
Alex Jaeger

Stage Manager
Brenda Potts

Assistant Stage Manager
Rachelle Anthony

Facilities Coordinator
Diane Connor

Production Manager
Ed De Shae

Advisors
Alan Armstrong
Michael Hackett
John Hall
Bob Israel
Neal Jampolis
Jon Robertson

Crew
Marc Branner
Debbie Schlaff
Melissa Thomas
Ephi Stempell

The story line of this little farce is straight out of 18th century opera buffa land. An eccentric apothecary, Sempronio, who avidly reads the daily papers in search of foreign adventures, is attracted to his ward, the lovely Grilletta. She is drawn to his apprentice, Mengone, but is frustrated by his reticent and bashful behavior toward her. The situation is further complicated by the affections of a young student type, Volpino, who is also madly infatuated with the beautiful Grilletta. Overhearing Sempronio's plan to change his status with Grilletta from guardian to bridegroom, the two other suitors disguise themselves as notaries and perform a mock marriage ceremony hoping to substitute themselves as groom. Grilletta, aware of their scheming goes along with the gag, hoping to spur Mengone into action. When this scheme fails, Volpino (in another disguise) tricks the foolish Sempronio into realizing his dreams of becoming the personal physician to an Oriental pasha. When the ambassadors from the pasha arrive and begin to ransack the drugstore to move Sempronio lock, stock, and barrel to Turkey, he realizes that the game is up and relinquishes Grilletta to her true love, Mengone. This little opera has all of the required characteristics of the genre, tuneful arias, charming ensembles, silly twists of a stereotypic plot, and the use of "exotic Turkish" elements so beloved of the 18th century. In 1993, the opera seems to be a concoction of funny single movements, much like a comic strip in the Sunday papers, which is what this production is about. Its primary purpose is to amuse, both today and at its creation in Eszterháza over two hundred years ago. – John Hall
The Apothecary Cast
Mengone, an apprentice druggist
Kent Carlson

Sempronio, owner of the drugstore
Brian Leerhuber

Grilletta, his young ward
Rebecca Semrau

Volpino, a foreign exchange student
Miwa Kawaguchi

Turkish Emissaries
Eric Jordan
Chris Rhodes
Eli Gunnell
Bryan Chesters
Robert Shacklett

The Apothecary Orchestra
Violin I
Billy Kim
Nathaniel Yoo
Wan-nee Chen
Bill Chan

Violin II
Henry Tysler
June Kim
Philipe Olive
Dan Liebgold

Viola
Megan Donahue
Chandar Wood

Cello
Elizabeth Wright
Dvora Vener

Bass
Chris Williams

Oboe
Kim Brashear

Horn
Daniel Wood
Armando Castellano

The Apothecary Credits
Conductor and Harpsichord
William Lumpkin

Stage Director/Designer
John Hall

Costumes
Alex Jaeger

"Romeo and Juliet" and "The Apothecary" are used by arrangement with European American Music Distributors Corporation, sole U.S. and Canadian agent for Universal Edition Vienna, publisher and copyright owner.